Som & Thomas Fügert (owner and manager)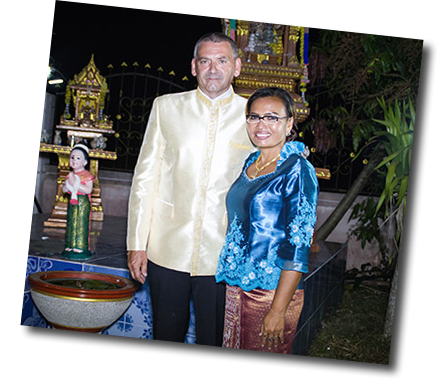 We met each other for the first time in 1995/96 in Thailand and got married in 2001 after which we lived in Germany. Our Business there was doing very well, but our dream was to open a Resort in Khun Han. We worked very hard for this and saved every cent we could. Meanwhile we built a House and visited many places in Europe.
In 2009 we started to build the first Bungalow at the Rerawadi Resort in Khun Han. By the beginning of 2012 we had completed 9 Bungalows and decided it was time to leave Germany.
After a while of being back in Thailand running the resort, we realised there are a lot foreigners around Khun Han so we opened a small Bar in Front of the Resort. By the end of 2013 also began the restaurant and serve a range of European food so our customers now enjoy their time at the Bar and Restaurant.
Now in 2014 we have added two Apartments, six more rooms, a swimming Pool and a relaxing Pool area. We are pleased that all our guests from all over the World have everything they need for an enjoyable Holiday.
We hope you enjoy your stay at Rerawadi Resort and Spa!